SUBMARINE BATTERY COMMISSIONING

FACILITY : Submarine battery commissioning facility designed, manufactured, installed and commissioned by NeoPower which is unique in their features so that all operations of commissioning are completed. Other information may be provided on request.
SUBMARINE BATTERY CHARGING,DISCHARGING & MAINTENANCE

FACILITY : The Submarine battery is to be maintained on board with shore support mobile units. These comprise of mobile battery chargers, dischargers, mobile chilling plants and mobile high pressure air compressors, trickle chargers etc. are provided as a complete solution for the jetty or individual units. All major units are mobile and can be used over jetty moving the facility from one boat to another boat.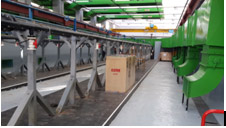 FUME EXTRACTION SYSTEM

FACILITY : Fume extraction and exhaust systems for battery charge, discharge and battery commissioning halls are designed, manufacturer and supplied for heavy duty submarine battery commissioning facilities and they are equipped with cleaning of fumes and acid mist with scrubbers, filters etc.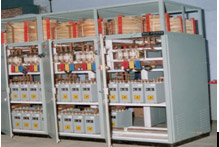 POWER FACTOR CORRECTION & IMPROVEMENT FOR DOCKYARDS SUBSTATIONS: The integrated power factor correction networks both for LT and HT are designed, manufactured, installed and commissioned by Neo Power. Naval Dockyards are equipped by Neopower designed pf improvement networks which provide energy saving and reduced line currents through the electrical systems.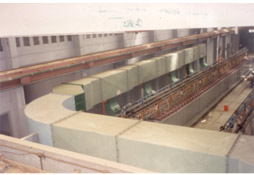 POLLUTION CONTROL SYSTEM
Neopower has designed, manufactured and installed a state of the art pollution control system for destruction of hydrocarbons generated in a hull coating plant. The system in corporate most modern regenerative thermal oxidizers for incineration using regeneration principle and saves huge powers which other wise would be lost to atmosphere. These recuperative regenerators are based on the heat recovery by specially designed bricks which conserve the heat energy with 95% heat transfer efficiency.
AUTO CONTROL BAY
For servicing and maintenance of the boat equipment in laboratory the auto control bay is constructed. Neo Power can supply various test benches, test set ups, instruments supplies, loads etc. for such facility because of their experience & expertise / acquaintance with these systems. Various types of test benches and test facilities generation is speciallity of NeoPower. All types of DC-AC power supplies, test equipments, instruments can be supplied. The power supplies include variable AC sources, frequency converters, rectifiers, motor generators etc.
ELECTRICAL REPAIR SHOPS FOR SHIPS / SUBMARINE ELECTRICAL EQUIPMENTS
Neo Power is in a position to offer complete repair shop equipment including mechanical civil and electrical facilities. The shops can be equipped with test set ups for AC-DC motors, generators , frequency convertors, transformers, switchgear items and electronic instruments. In the switchgear system, test benches for AC-DC breakers, relays, heaters, meter calibration, PCB testers etc. can be provided. Neo power has got 40 years experience in executing these facilities and are fully equipped to offer total turn key solutions for these projects from concept to commissioning and PAT & FATS.
SHORE SUPPLIES FACILITY SUCH AS 50/60 HZ FREQUENCY CONVERTORS
The power supply to give different sources of various frequencies for the ships.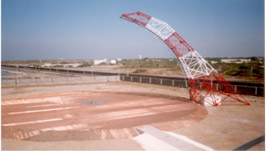 SCALE MODEL TEST FACILITIES : A radio frequency range is installed for scale model studies of warships. The facility incorporates a reflective conducting ground plane of 50 mtr. diameter covered with copper wire mesh and a 25 mtr. radius nonmetallic mast to move the 6m long broad band antenna, mounted on polarization positioner and moved over the angular rails, mounted on a inner periphery of the nonmetallic mast. A 6m dia, meter brass sheet covered turn table is equipped with computer control to position the model over 0-360° on the turn table with accuracy of ±0.5°. The range is equipped with state of the art fully automatic antenna measurement facility for plotting and study of frequency response with the help of azimuth, elevation and polarization positioners.