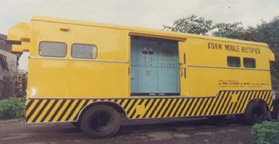 MOBILE BATTERY CHARGERS UPTO 2000KW

Mobile battery chargers of 380V 2500 Amps DC to charge the batteries suitable for Russian & German Submarines and 550V, 2500A DC for French submarines are manufactured by Neo to carry out the battery manufacturers test schedules as required. The mobility provides the movement of charger on the jetty. Fully regulated battery charger is provided with data acquisition / logging facility with PC/PLC.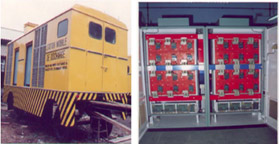 MOBILE BATTERY DISCHARGER
To provide discharge at 264V, 2 x 1050 Amps by selecting current according to the requirement of discharging the batteries to the correct depth of discharge. Fully automatic with regulation of current with data acquisition and logging facility with PLC/ PC is provided.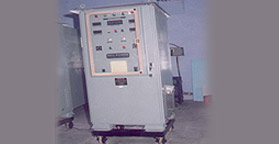 MOBILE TRICKLE CHARGERS
Trickle charger with output of 10-50 Amps, 380-550 V DC to charge the batteries in trickle Are provided charge mode. This will keep the batteries in healthy condition, in case of long idle periods, of few months, when battery is not in use.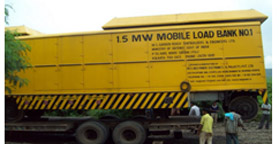 MOBILE LOAD BANKS FOR TESTING NAVAL SHIP GENERATORS UPTO 3 MW CAPACITY.
The mobile load banks are provided with inductive / resistive loads of suitable capacities and suitable for automatic test requiremets as per naval standards NES 629-630. The step load tests along with M load tests are possible to be carried out by these load banks for generators upto 3 MW capacities and at various voltages and frequencies as per generator specification.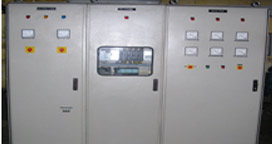 FREQUENCY CONVERTERS
Static and rotary frequency convertors, invertors, rectifiers of capacities 25 kVA – 60 kVA and frequencies upto 400 Hz are available. These convertors have proved to be rugged, sturdy and reliable for providing power supplies for various equipment, instruments and gadgets on ships and submarines in electrical and weapons systems.
MOBILE RECTIFIER POWER SUPPLY
110V, 220V dc power supplies used as shore support facility upto 1500 kW capacity are provided with AC-DC thyristor convertors, automatic power factor corrections and harmonic compensation / static filters. They operate on voltages at 380V, 415V, 440V and frequencies 50 or 60Hz supply and provide regulated output dc voltages.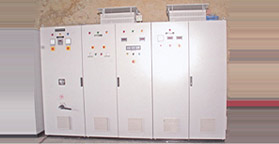 SWITCH BOARD & CHARGERS FOR TORPEDO BATTERIES
Automatic test equipment and power supplies are provided for testing transformers, motors, batteries etc. along with test and measuring equipment, specially designed testers and charger / dischargers for lead acid, silver zinc and lithium batteries. Test equipment are manufactured as custom built equipment.